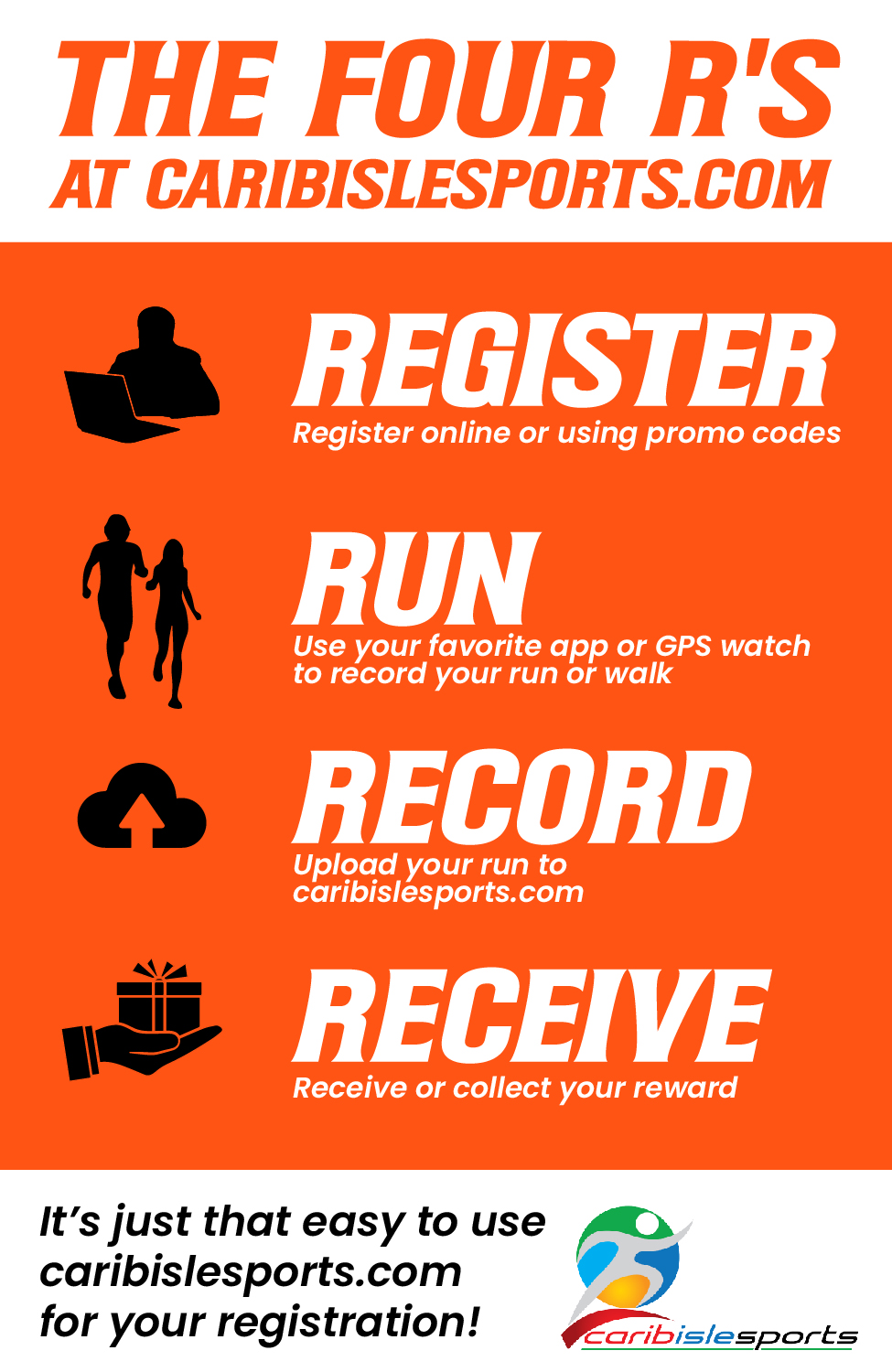 Welcome to 2021! Last year was different to anything anyone has ever experienced, but we got through it. Running has helped many of us to cope with the restrictions and the stresses surrounding the pandemic. Despite the pandemic, or possibly because of it, we have witnessed the dramatic fall of many distance world records. But you know what? Its a new year and we are ready to compete! Have you seen the posts that your friends and competitors have been logging? We are out and training on our own and with our teams, so why not racing? I can't wait for us to hit the road! But it won't happen if we don't start to run , I mean we have gotten approval since July last year so its time to take this show on the road.


THE VIRTUAL RACE
By now everyone should be familiar with the process with Virtual races. In case you aren't, it's simple at Carib Isle Sports. For this event, your package will be delivered to the address listed when you upload your results. No bother, no fuss, the package comes to you.
THE LIVE EVENT/S:
To be announced. If you have a preferred 5k course, and a group of 10 or more participants that would like to be electronically timed, let us know and we may be able to bring the live event to you! Send an email to contact@caribislesports.com along with a map of your proposed course(available through most running apps). The Live Event/s will carry a minimal cost of $25 to partially cover the bibs, medals and equipment used. Carib Isle Sports will sponsor the balance. Everyone who attends the first two events, is guaranteed to receive a medal.
THE DETAILS:
| | |
| --- | --- |
| Date: | Registration begins January 1, 2021 |
| Location: | Anywhere you choose |
| Distance: | 5 Kilometres |
| Data Submission: | Click on the link on the Off and Running registration page on caribislesports.com |
| Promo Codes: | Sorry, no promo codes are currently available |
| Medal Collection: | Medals will be delivered to the address stated at run-data submission |
| Contact number: | 776-1862 |
| Cost: | TTD $105 |
| Fees: | NO PROCESSING FEES! |
| Benefit: | Part proceeds to charity |
| Live Event/s: | To be announced |